Project status: ended
Period: 2014 - 2017
Site's previous use: other [undevelopable remnant parcel]
Meanwhile use: gardens and allotments, arts and culture, trade and business, other [workshops for social enterprises]
Initiator: [other] lucky encounter between like-minded public officers and an artist collective
Value: social, arts and culture, built environment

Ownership and lease: owned by the City of Copenhagen and leased for free to a cultural collective in exchange of hosting public events and improving the area's aspect. Yearly contract which could be renewed every year until 2018 (when the Area Renewal project ended) or anytime the city would start other developments.

Source: Container City project website
The long, narrow plot is located next to the rail tracks that take to Nørrebro Station, and is owned by the City of Copenhagen. Because of its odd shape, as well as the noise pollution caused by trains, it has only been used for storage. When it was included in the Fuglekvarteret Area Renewal (FAR), local authorities wanted to improve its appearance, and prevent informal (and often illicit) activities such as squatting, substance abuse and graffiti.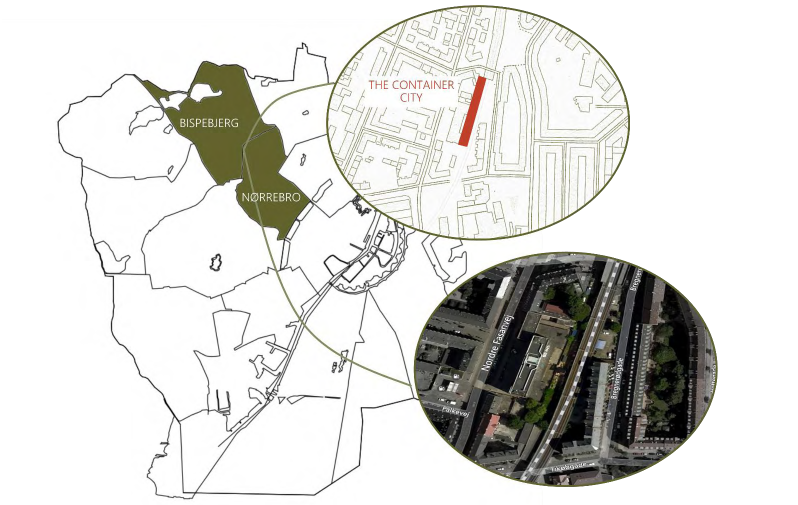 Source: Axinte, L. (2015). Formalising the informal temporary use of vacant spaces.

Bureau Detours (BD), a local cultural collective in search for affordable space to develop its project, proposed to create a Container City. BD wanted to build a movable and removable culture centre, where social entrepreneurs could locate and use the facilities provided by Bureau Detours inside different large shipping containers.
FAR and BD signed an agreement through which BD could use the space for free. The contract could be renewed annually, until 2018 when FAR would come to an end or whenever the city would want to start developing the plot. In exchange, BD was asked to host public workshops, exhibitions, create an urban garden and any other activities that could give positive attention for the neighbourhood and the city. BD was not allowed to charge rent since the ground was not theirs, but they could sell their work and impose prices for the entrepreneurs using the different tools and work spaces.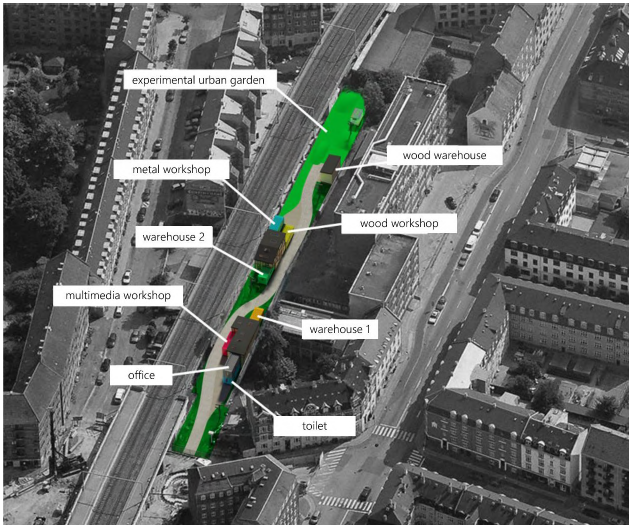 Source: Container City project website
In January 2015 BD brought eight containers and was planning to expand. Each container had a different purpose and was properly equipped to function as a carpentry studio, a metal workshop, a radio station, a stage, as well as a kitchen or a place for socializing. Some of the containers (such as the radio station or the one which could be converted into a stage) could be taken and moved throughout the city whenever an event required it. The back of the plot also hosted a community garden, as well as small animals like chicken and rabbits.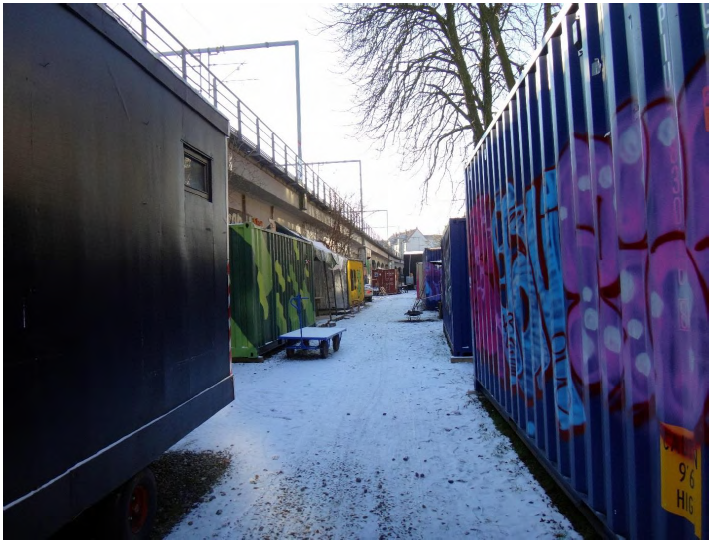 Source: Axinte, L. (2015). Formalising the informal temporary use of vacant spaces.
Located in a densely built neighbourhood where empty and/or affordable space was extremely scarce, The Container City became a success very quickly. Besides the daily activities, BD organised educational workshops, gatherings and parties. Despite certain disagreements between FAR and BD, the project evolved harmoniously and managed to activate a previously undevelopable plot.
---
Written by Lorena Axinte