The refreshed and refined College Square is a temporary installation developed in collaboration with Central Saint Martins (CSM) Spatial Practices school. It creates a new civic space in the heart of central Croydon, animating and activating a key route into the future Cultural Quarter.
Sitting within a prominent edge of the Fair Field Masterplan area, the College Square installation is a precursor to an important masterplan objective to facilitate and strengthen the north-south pedestrian connectivity and permeability through the urban block. The project revives a previously derelict space, acts as a platform for public engagement and participation and enables creative, educational and community activities.
With the creation of a welcoming and vibrant place for people to meet and socialise, the College Square installation becomes an opportunity for civic life to thrive. The project consists of a collection of innovative urban furniture that can be configured and reconfigured in a variety of ways, enabling a range of activities – this includes creating colourful seating and dwelling opportunities, opportunities for market stalls; a platform for workshops and activities, a stage and more.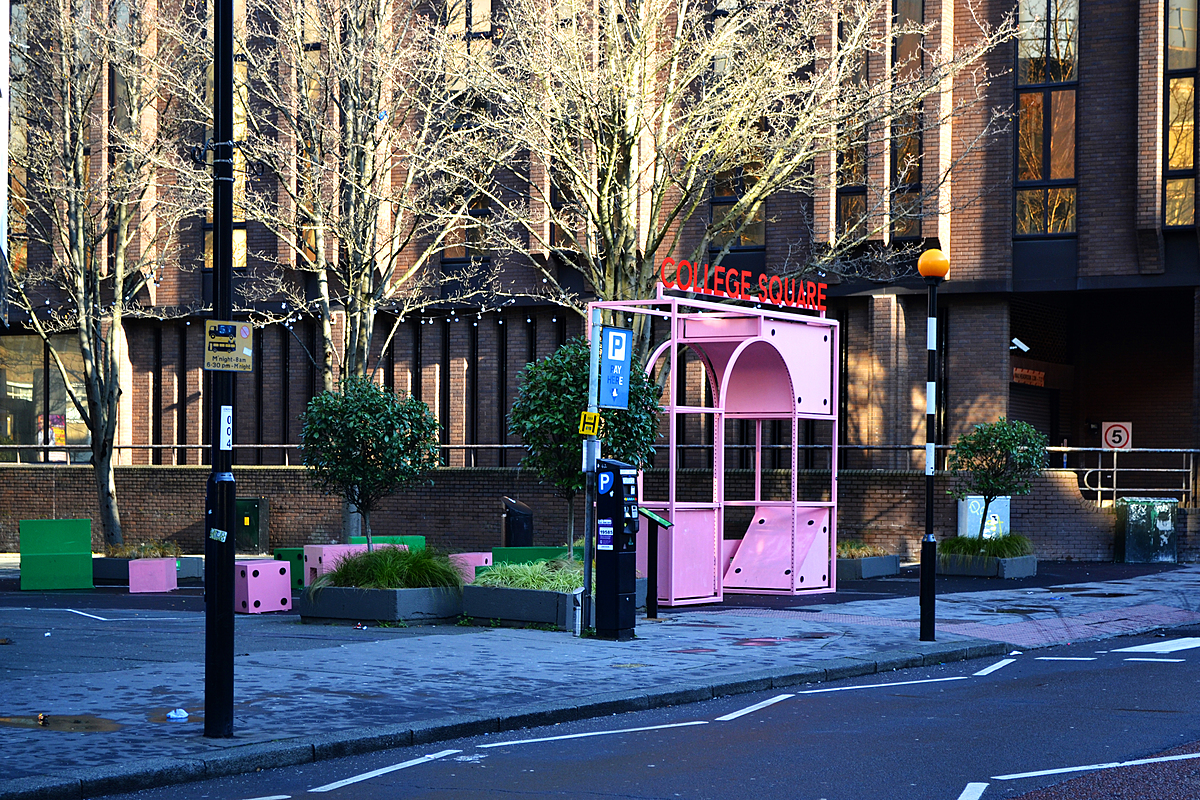 Image Credits: Matteo De Bellis
The CSM Spatial Practices undergraduate architecture programme approached Croydon Council whilst situating an academic project in Croydon and exploring tactical urbanism and its benefits. Croydon's Placemaking Team initially assigned an advisory role to the students as they developed their academic proposals, advising on Croydon's strategic planning framework regeneration and growth plans as well as encouraging opportunities to activate places in the meantime as precursors to long term change.

Due to the synergy between the CSM academic project and the Growth Zone Meanwhile Croydon programme that was being developed by the Council, a student group were shortlisted with a particular relevance to the College Square site which was in need of urgent activation.
The Placemaking Team at Croydon Council along with the Council's Creative Director helped further develop the project with CSM before taking on the detailed design and leading on delivery of the installation on site.
Recommended resources
'Vibrant street furniture creates sociable square in south London', Natasha Levy
---
Author: Text by Croydon Council, editing by Matteo De Bellis